The best social media accounts and TV shows to feast on
When the world went into lockdown as part of the pandemic measures, we all had one thing in common: we still needed to eat. But we also had to take control in a time that seemed out of control and to fill our time while we couldn't leave the house. That's where baking came in. Sure, we all baked…but more than that, we found pleasure specifically in baking.
RECIPE: Easy Four Ingredient Sugar Cookies
Fast forward two years and while we may be living post-lockdown life, it seems the love of baking has remained and with good reason. What we've all discovered while we've been madly baking cakes is that activities with a clear set of instructions, which fill our senses and give us a delicious result in the end calm and soothe us while putting the food on the table. It's a combination that many of us have stuck with, because it's delicious when it's going well…and even when it's going badly.
READ MORE: Everything Meghan said in her first podcast
As a food writer who knows deeply the intrinsic joy of the soothing processes of cooking and how so many people respond to seeing or doing it, I was more than happy to share my favorite cooking accounts and my choice of TV shows with extra today and all the reasons we love them plus the current baking trend.
Watch the clip above to learn all about ASMR (Autonomous Sensory Meridian Response) in cooking videos, the best accounts to follow for cooking tips and inspiration and what's so satisfying about baking a cake or bread at home.
Here are some of my favorite TikTok accounts to follow for some real food inspiration:
Cake decorating inspiration:
The incredible @Tigga_Mac Tigga Maccormack is an Australian cake genius with over 1.1 million subscribers. Her account shows her awesome professional baking and cake decorating skills and definitely makes you really want cake. But fear not if you don't have those crazy professional skills, Tigga also regularly posts awesome and easy supermarket cake tricks this will have you grabbing a Coles or Woolies mud cake and turning it into a "pig in mud" cake ASAP.
Unable to view TikTok on this browser
Weird (and hilarious) historical recipes:
High energy @bdylanhollis is an absolute champion among TikTok bakers. His nine million followers would attest to that. He's funny, full of energy, and specializes in trying out vintage recipes that really sound like they shouldn't work. Some of them work — and he gladly shares his shock — and some don't. All the recipes are really easy and he prepares them in a very daily family kitchen. Sometimes it's the kitchen too, not just the baking…but the pastries really take the cake (ha!). It's intriguing, hilarious, and a bit of a history lesson to boot.
READ MORE: Husband admits he 'planned to divorce' after being called out for hiding money
Unable to view TikTok on this browser
Technique and classic finishes:
If you are looking for truly soothing and beautiful cooking, then @cloudykitchen is the way to go, and over 702,000 subscribers and fans can't be wrong. Not only is it nice to look at, but the tips and tricks you can learn along the way will make you a better baker, no doubt.
Just take a look at the bewitching pie designs or pie crimping tricks.
Unable to view TikTok on this browser
Beautiful baking to watch and dive into:
The very soothing @bio.bele Biobele Braide is an account I could fall asleep to and wake up to. With over 420,000 followers, Biobele is a Harvard psychiatrist and "calm keeper," which sums it up perfectly. Her awesome baking videos focus on kneading and rising dough, jazz music and very moody lighting. I could watch it all day because it really shows the slow, peaceful beauty of cooking. Oh yes, and there are also lots of cakes with candles.
Unable to view TikTok on this browser
TV cooking shows:
But for TV cooking shows, it's a bit mixed. If you're looking for something that really gives you advice and education, but is still a reality show/baking contest, you can't get past the Great British Bake Off. It's a mix of very classic and traditional confections made by professionals and amateurs, as well as classic and very pretty shots of the English countryside. Add to that some really interesting facts about the history of different bakery treats and how they came to be and it's an entertaining and delicious little history lesson.
Then there is Is it cake? The cake competition where bakers compete to be the best at making cakes that look like everyday objects and try to fool the judges with their art. It's amazing what they can do, you get caught up in the game yourself trying to decide which is a cake and it's great family viewing.
On the other side of cake mastery is the show Nailed it. This is where non-professional bakers compete to try to recreate a cake masterpiece without any direction, skill or technical training. The results are always a hilarious disaster. But the point is to remind us that cakes can look messy and still taste delicious, and if you had fun along the way, that's it. This will make anyone who has ever had one cooking failure feel so much better in the kitchen.
If you need a classic Jamie Oliver for baking inspiration, look no further than Stan's. Jamie and Jimmy's Food Fight Clubwhere Jamie and his mate Jimmy serve cafe food to celebrities with lots of friendly banter and some great advice along the way.
Finally, I kinda like Waffles and Mochi. It's the work of former US first lady Michelle Obama and it's a kids' cooking show that features Michelle, puppets, and delicious and fun culinary exploration. It's not just baking, but it's a great way to introduce kids to food.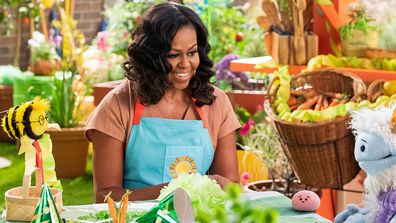 All are worth a visit, even if you just want to whet your appetite.
For a daily dose of 9Honey, Subscribe to our newsletter here.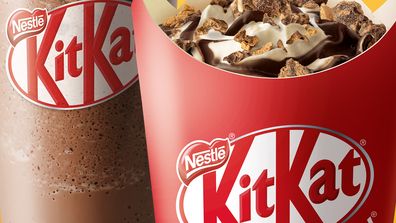 Macca's brings back McFlurry's favorite