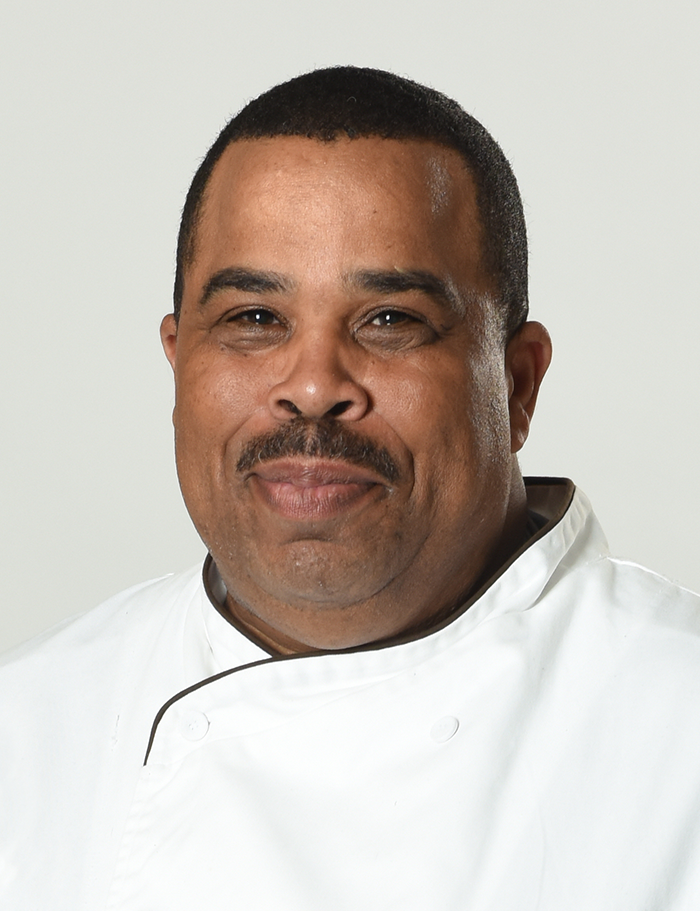 Taste Trends: Purvill Chaney, Executive Chef, Duke Energy Convention Center
Some people are lucky to be born into the calling of their life. Chef Purvill Chaney is such a lucky person. An accomplished culinary professional who discovered his passion for cooking while working as a chef at his parents' restaurants in his hometown of Flint, Michigan, the aspiring chef wasted no time in embarking on a career hospitality professional after college, cutting her teeth as a sous chef at a local Hyatt Regency. Since then, Chaney's long and storied career has included more than 27 years at Hyatt in a dozen different locations in multiple cities, followed by a 15-year tenure at Duke Energy Convention Center in Cincinnati, Ohio, where he now oversees a kitchen staff of over 100 as executive chef.
Never afraid of a challenge, Chaney has cooked for a who's-who of celebrities and dignitaries over his long career and takes great pleasure in cooking personalized, cutting-edge menus to surprise and delight DECC guests. . He also happens to be an award-winning ice sculptor!
"Every day is new, and with every day comes a new challenge," Chaney said of her work. "Whether my team creates menus and oversees mass production to serve more than 120,000 meals for the World Choir Games or adapts menus to meet the many dietary needs of guests, I take pride in our ability to customize and deliver unique dishes – friendly experiences at trade shows, conventions, meetings and events of all types I never work a single day in my life because I love what I do every day!
Passionate about training the next generation of culinary professionals, Chaney makes it a point to give back to the Cincinnati community, focusing on local sustainability efforts and promoting the event industry to a diverse youth population. Through his annual work with Frederick Douglass Elementary School and its garden club, Chaney and his team enjoy hosting 30 to 40 Cincinnati public school students in the DECC's state-of-the-art kitchen, where they receive hands-on training in how to prepare and cook vegetables from their garden to create a nutritious meal.
TSNN enjoyed sitting down with Chaney to learn about the latest cutting-edge food and beverage trends, how event planners can work with tight budgets, rising costs and supply chain issues. sourcing without sacrificing taste and quality, and who has inspired him the most in his career. .
What are the biggest and most exciting event food trends you're seeing right now?
Customers focus on comfort foods, but even more on amplifying the experience of their attendees. The art of presentation is almost more important than the food itself. I love putting together an artistic presentation to amplify their event and achieve their goals.
Charcuterie now extends to the "sweets" category with displays of dessert charcuterie—in the same vein as an extensive presentation of meat, cheese and nuts. Petit fours, cookies, cake pops and other delights are paired with individual portion mousses, creams and fruit compotes to create a beautiful presentation with options for all tastes and cravings.
Prior to COVID-19, diet-conscious menus (such as gluten-free, keto, vegan, and vegetarian) were a growing trend. Is this still true, and if so, do you expect it to accelerate in the future?
Very true! Carbohydrates and gluten, meat or no meat? Allergies and additives? Previously, vegetarian options were the focus, but now special diets are required. Flourless cakes, no bread on the table, and more sensitive entree options for today's palates are all coming under scrutiny and growing in popularity. Some customers even proactively choose to opt for a gluten-free menu, as this is the highest dietary demand. It remains simple but always pleases.
Pro Tip: Contact your guests ahead of time to determine the number and type of special meals you will need to provide. Having the ability to plan these requests ahead of time will not only help your budget, but will also ensure that your guests feel "heard" and welcomed.
Many event planners are now working with tighter budgets. What are your top tips for overcoming this hurdle while providing delicious meals to attendees?
In Cincinnati, 75-80% of our menus are personalized. We have always been able to stay on budget, but now have to factor in more due to rising costs, supply chain issues, etc. Recently, we've seen more vegetable-based meals that are less protein-focused due to their rising costs. . So, for a duo, instead of fish and chicken, we'll do fish and cauliflower steak. Or my favorites are the short rib steak and cauliflower.
A few suggestions:
Go for the bites!

Plan your catered events at non-traditional hours. Instead of a sit-down meal, try hosting elegant cocktails and appetizers from 4-6 p.m., so guests can make dinner out of it if they choose.

Limit traditional cocktail hour

up to 30 minutes before your event, then offer beer and wine with dinner. There's always room for a cash bar as a safety net.

Watch your warranties.

With changing demographics and weakening attendance levels, keep your accounts realistic knowing that a paid RSVP doesn't always equate to an attendee, especially for fundraisers.

Work with a place focused on sustainability.

Make sure your supplier has a partner to supply leftover meals to the community to limit waste.

When planning menus,

look for exotic dishes that go a long way.

For example, paella is exciting and visually appealing, and pasta with a variety of toppings and limited protein, starches, and salads can go a long way.
Do you see any improvements in the diversity of executive chef roles at convention centers?
I believe him. I have a passion for training new talent, but also for working in the community to introduce the culinary field to a diverse population. The Duke Energy Convention Center and OVG Hospitality make community a priority, and I take an active role in promoting the culinary field, working with local elementary school garden clubs and participating in career days and through our involvement with the Institute of Hospitality Leadership, which is an initiative created here in Cincinnati to grow skilled and diverse talent in the hospitality industry.
Who or what has inspired you the most throughout your career?
The people. I really enjoy interacting with our customers and guests, both internal and external. In addition to having a great team, I have had the privilege of cooking and being around many celebrities and dignitaries, such as Oprah Winfrey, Presidents George HW Bush and Bill Clinton, the Dali Lama and the Commissioner of NFL during the Super Bowl, to name a few.
See Chef Chaney in action here.
Don't miss any event news: Subscribe to our weekly e-newsletter HERE and engage with us on Twitter, Facebook, LinkedIn and instagram!