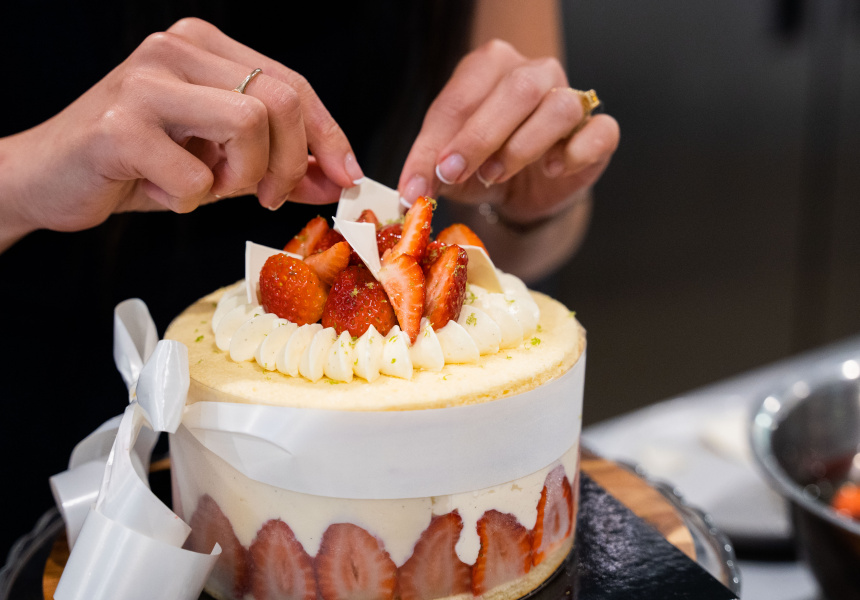 Strawberry sponge compatible with Christy Tania's Thermomix
Dessert chef Christy Tania was once a Thermomix skeptic. Like many of us, she had only seen chefs use the device to prepare tasty dinners and meals. Classically trained in desserts, she found it hard to believe that a machine could handle the intricacies of tasks like tempering chocolate and making choux pastry.
"I knew you could use it to make savory dishes and things like ganache and custard, but I was wondering what else it could do," Tania says. "I decided to push further and make choux pastry, which is quite capricious and close to my heart. It went well." Now she has no less than six, finding more uses for them as she goes along. Tania is making full use of the machine at her neon yellow dessert restaurant, Glacé, which opened in Windsor in 2017 and cooks up delights like an immaculate pandan swiss roll or a cartoon mushroom and raspberry cakeand even homemade curry pastes.
Strawberry cake was a favorite from Tania's time in France, living near Lyon and studying at the Ecole Nationale Supérieure de Pâtisserie. French sponge cake is traditionally made in the summer when its key ingredient, strawberries, are juicy and ripe (the French word for strawberry is "strawberry").
"I've always loved strawberries," says Tania. "It's basically like a strawberry shortcake – a lot of people love it. I love it as a way to end a meal. Tania's version has a thick layer of silky vanilla diplomat mousse surrounded by fresh strawberries and sandwiched between two thin sponge cakes. The diplomate mousse is composed of a pastry cream rolled up in a light whipped cream. "It has that bite of custard, like in a slice of vanilla, but also the clean, light finish of whipped cream," she says.
It may look and sound complicated, but Tania says, "It's very easy to do." His first piece of advice is that if you're going to use a Thermomix, actually utilize the Thermomix – including the Cookidoo element which works as an integrated digital assistant, telling you when to add ingredients, helping you weigh them and adjust times, temperatures and speeds as you work on the recipe. "A lot of people try to use the Thermomix like [standalone] machine [like a mixer], instead of help," she says. "But you have to take advantage of [it]. The recipe is there in the computer and guides you step by step. Instead of trying to do it yourself, let the machine do it for you.
The second tip is based on comments she had that the cake tends to shrink once baked, making it harder to stack and leaving you with a messier finish. To fix this, she suggests baking the cake in a sheet pan rather than a traditional cake pan. "The trick is to cook it in a large pan in a plate, then cut it into a round shape," she says. "It won't shrink and the cake will have a perfectly sharp edge." You don't have to make it circular either – it can be a square cake or any other shape you like.
Here's how to make Tania's recipe for Strawberry-Loaded Summer French Sponge at home. The strawberry biscuit can be prepared up to 2 days in advance and stored covered in the refrigerator. Take out and decorate 45 minutes before serving.
Recipe: Strawberry biscuit compatible with Christy Tania's Thermomix
For 8 people
Preparation time: 6 hours including cooling time
Cooking time: 30 minutes
Ingredients:
Butter, for greasing
6 eggs, separated, at room temperature
115g caster sugar
70g plain flour
50g vegetable oil
10-12 fresh strawberries, plus extra for garnish (choose strawberries of similar size, for uniformity)
160g fresh strawberries
Icing sugar, for dusting
Edible flowers, to decorate
Acetate (available at cake decorating stores, craft stores, and office supply stores).
Vanilla diplomat mousse
10g titanium gelatin sheets
330g of milk
1 teaspoon vanilla bean paste
60g caster sugar
25g cornstarch
4 egg yolks (approx. 65g)
300g heavy cream
Method:
Prepare the diplomat mousse in advance. Place the gelatin sheets in a bowl, cover with cold water and soak until soft and supple (about 10 minutes).
Put the milk, vanilla, sugar, cornstarch and egg yolks in the bowl of the mixer, then start on the Thermomix setting thicken/80°C. Remove gelatin from water and squeeze gently to remove excess water. Add gelatin to mixing bowl and mix on speed 3 for 10 seconds or until gelatin is completely dissolved. Pour the custard into a bowl, covering the surface directly with plastic wrap to prevent a skin from forming. Let stand 1.5 hours or until cool.
Once the custard has cooled, add the butterfly-whisk insert to the Thermomix. Place the cream in the mixing bowl and whip on speed 3.5 until soft peaks form, watching carefully through the hole in the mixing bowl lid to avoid over whipping. Gently fold into the cooled pastry cream. Cover the surface of the mousse directly with plastic wrap and refrigerate for 2.5-3 hours or until thick enough to form a piping bag. For the sponge cake, preheat the oven to 175°C. Butter and line the bottom of 2 springform pans (20 cm) and set aside.
Insert the butterfly whisk into the Thermomix. Put the egg yolks and 40g sugar into the mixing bowl then whisk on speed 4 for 5 minutes, or until the mixture is pale and fluffy. Remove the butterfly whisk and place the mixture in a large bowl. Thoroughly clean and dry the mixing bowl and butterfly whisk (see tip).
Reinsert the butterfly whisk. Place egg whites and remaining 75g sugar into mixing bowl then whip on setting 2 min 30 sec/speed 3.5, without measuring cup or until stiff peaks form. Remove the butterfly whisk. Gently fold the whipped whites into the yolks mixture until combined, being careful not to overmix.
Place a bowl on the mixing bowl lid scale and weigh the flour into it. Sift the flour over the egg mixture and gently fold in until just combined.
Place oil and 50g of batter into mixing bowl and mix on setting 5 sec/speed 2. Add mixture to batter in mixing bowl and gently fold in until just combined.
Divide the batter evenly between the 2 prepared pans and bake for 14 minutes, or until a wooden skewer inserted into the center of each cake comes out clean.
Let cool in the pans for 5 minutes, then unmold the cakes onto a wire rack to cool completely. Clean and dry mixing bowl. To assemble, cut an 8cm x 63cm strip of acetate or a double layer of parchment paper and line the side of a cake tin with the collar. Secure the ends with tape. Trim the top of each sponge so they are level. Place a sponge cake, cut side up, in the prepared pan.
Cut the tops off the strawberries to form a flat, level base, then cut them in half. Place the strawberry halves side by side on the side of the pan, tops down and cut side against the pan. Press them against the acetate collar or parchment paper so there are no gaps.
Stir the diplomat mousse until it softens, then place it in a piping bag with a plain nozzle (1 cm). Pipe a layer of mousse to cover the base of the cookie and reach halfway up the side of the strawberries. Using a palette knife or the back of a spoon, spread the mousse in a thin layer over the strawberries to fill the spaces between them and cover their tops.
Arrange half of the sliced ​​strawberries on top of the mousse layer, then pipe half of the remaining mousse over the sliced ​​strawberries and spread evenly.
Top the mousse layer with the remaining sliced ​​strawberries, then pipe the remaining mousse to cover the strawberries. Spread evenly so that the mousse ends 1 cm below the edge of the acetate collar or parchment paper. Place the remaining sponge cake layer, cut side down, on top of the mousse layer and gently press down. Cover with plastic wrap and refrigerate for 3 hours, or overnight, to set.
Place the strawberry plant on a serving plate and gently unmold it from the mold, then gently remove the acetate or baking paper collar. Generously dust the top of the cake with icing sugar, then garnish with additional strawberries and edible flowers before slicing to serve.
Point
Do a vinegar wash to thoroughly clean your mixing bowl before whipping the egg whites. Insert the butterfly whisk, then place 500g water and 1 tbsp vinegar into the mixing bowl and mix for 30 seconds on speed 4. Remove the butterfly whisk, empty the mixing bowl, rinse with water warm and pat dry.
This article is produced by Broadsheet in partnership with Thermomix.