Strange Clay review – dynamic ceramics | Ceramic
strange clay is a wild surprise. Totems chimney pots grow beckoning fingers and toby jug handles. Distant minarets float on the horizon. Curious stumps glow like molten lava. There are post-it notes scribbled with messages of resentment, sea creatures sprawled on the ground, and winged pixies hiding among the foliage of a life-size glade. And everything is made of ceramic.
The Hayward Gallery has seized the moment with this huge exhibition of clay, as the ancient medium has become a contemporary phenomenon. So much so that this show can afford to leave out Ai Weiwei's priceless Han Dynasty urns. painted with Coca-Cola logos Where Theater doorswith their meditations on African-American politics, to show the work of 23 other international names.
Some are familiar. There's a modest group of early Grayson Perry potties, so appealing with their gold decals, until you get closer and see the images of abjection, porn and child poverty. There are the small-scale but high-impact objects of the Californian pioneer Ron Nagle, rugged, bumpy surfaces coated in iridescent automotive spray and liquid gold. And almost inevitably there are the elegant whispers of Edmond de Waalin this case, small white porcelain containers gathered in display cases hung so that they look like solid cumulus clouds above you.
The oldest artist here is the late American ceramist Betty Woodman (1930-2018), whose work merges painting and sculpture. Woodman was fascinated by the uses of clay, high and low: the Greek urn and bathroom tile, the flowerpot and the terra cotta patio. The images of all are united in its marvelous southern houseaccented with Roman frescoes and brilliant garden center enamels, all flattened into dizzying, colorful shards like a cartoon explosion against the wall.
Its diametrically opposed, in spirit, is an installation by the Chinese artist Liu Jianhua composed of nearly a thousand parts. Regular/Fragile is a catastrophic rain of white porcelain objects that cascade down the walls: shoes, toys, hot water bottles, socks, the soft and tender world made hard, but also alarmingly fragile. Liu created what is effectively a memorial after a devastating plane crash in China, where the relics of human life drifted across the ocean: a wave of consumption that outlasted those who died.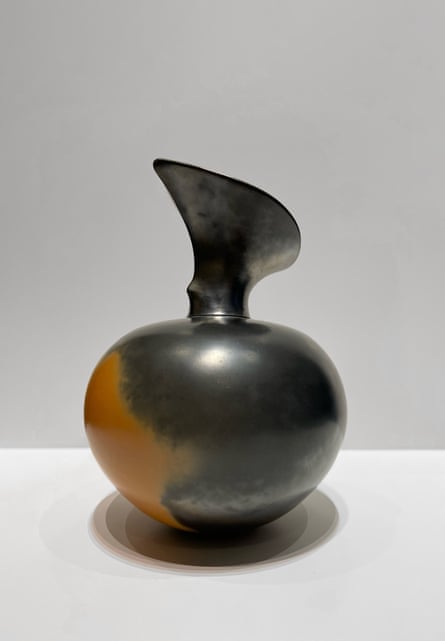 Contemporary art uses clay against itself sometimes, or at least counter-intuitively. Telephones, sinks, excrement, all cast in clay. The London-born artist Lindsey Mendick has a whole house full of ceramic vermin, from cockroaches in the kitchen to slugs on the walls and what appears to be an octopus emerging from the toilet. She is also the artist of the Post-it war waged by the couple who live here; marriage, in Mendick, a fragile domestic hell.
Many of these works remind you of how ceramic our world is. The artist born in Tanzania Lubna Chowdhary paints geometric abstractions on oversized tiles, deploying the fundamental grid you might find on a floor or in a shower. Serena KordaThe gigantic necklace of ceramic beads that spreads out in the gallery is inspired by the myth of Parthenope, a mermaid who fills the Bay of Naples with her tears.
The immaculate art of the natives of Kenya Madeleine Odundo starts with the humble vessel – a pot, a vase, a jug – and gives each a unique personality of its own. They lean forward, they bow, they seem to be listening, their mouths open; their curves carry notes of pregnancy. Each is baked and burnished in its characteristic reds and blacks and each transforms a functional object into an eloquent anthropomorphic sculpture.
Odundo is remarkable here, in so many ways, not least because his work is such an immaculate and inventive extension of age-old techniques. The totem pole artist, jonathan baldock, also references the history of clay with its chimney pots and wastebaskets spitting out ceramic buttons and supermarket tokens. All are incised with designs, much like ancient clay tablets, except Baldock replaces the intricate beauty of cuneiform writing with today's wordless emojis.
The fragility of clay is little exploited, unless we consider Rachel Kneepadthe tangles of white porcelain ribbons, limbs, vines and unnamed organic shapes suspended by a thread from the ceiling. Here and there in the casting process, the threat of cracking emerges explicitly. But so often in this show the material is disguised, its vulnerability disappearing in the novelty of, say, strange, heavily painted creatures positioned as garden gnomes in Klara Kristalovaforest glade.
Gigantism reigns. Gigantic installations, muckle shapes, massive blocks of clay. The greatest work here is a ceramic facsimile of a giant squid (the Architeuthis), which can reach 14 meters in length. Until relatively recently, he was only ever seen as a carcass washed up on a beach. This is exactly how artist David Zink Yi presents his huge facsimile, like a dead creature on the gallery floor, its marbled surface like exquisite Florentine paper. But this leisurely feat is undermined somewhat by the pool of ink seeping around him, which looks nothing like Halloween goo.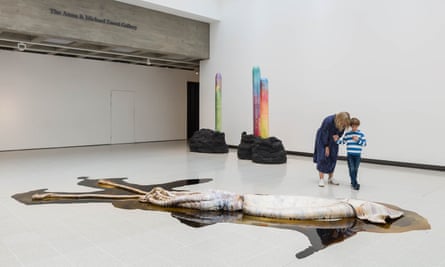 The wind turns upside down with the most delicate installation, titled My place is the placelessby the artist of Iranian origin Shahpour Pouyan. It's a floating horizon of beautifully inventive domes, roofs and minarets, all miniature inventions, but all speaking of real-world architecture. Royal palaces, mosques, office buildings, tiny huts, everything is presented on the same level, on the same scale and in the same earthly material.
Pouyan began working on the piece after taking a DNA test that revealed ancestry extending far beyond Iran, to 33 countries. My feeling is that his piece is a subtle argument against nationalism, theocracy, feudalism and race, replacing these tyrannical structures with those formed from humble clay.