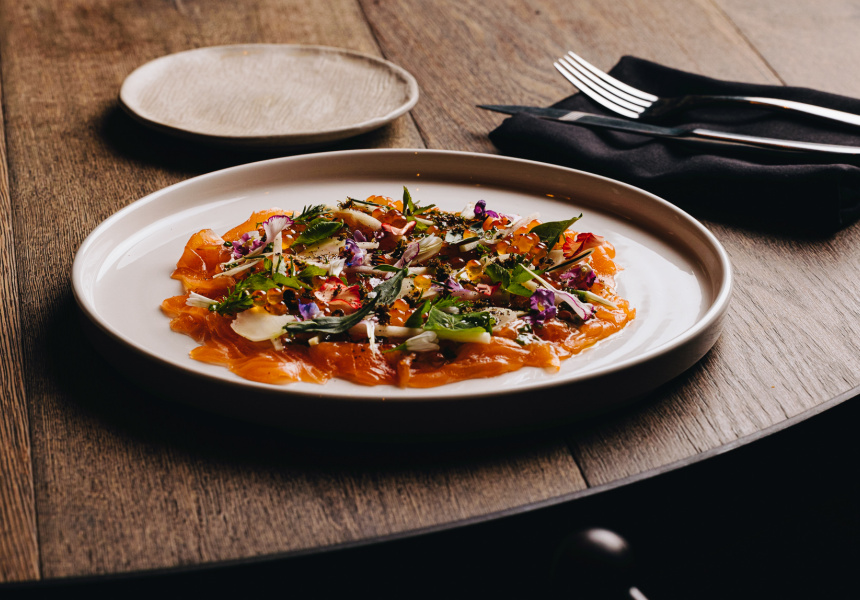 Scott Pickett's Eco-Coffee Salted Salmon with Broccoli Stem Dressing
With the warm weather approaching, our thoughts naturally turn to family barbecues and friends' brunches in the sun. If you can get an impressive and versatile recipe under your belt ahead of the season, consider yourself well prepared – even better if that recipe prioritizes eco-friendly ingredients.
That's the philosophy of Scott Pickett, whose deceptively simple salmon breakfast might turn some heads with his choice of ingredients. Pickett saw first-hand the sustainable farming practices of Ora King Salmon in New Zealand and visited the coffee farms in Kenya where Nespresso sources its coffee, partnering with local coffee farmers on the ground to produce the highest quality beans and support the community. He saw with his own eyes their ideals of regeneration and community support in action. For Pickett, however, one of the most practical tips for being eco-friendly in the kitchen is simply to make better use of the ingredients. And that means all ingredients, if possible. "I look at the byproducts," Pickett says. "Like, what can be used that I generally wouldn't use as a chef."
Take the broccoli stalk in this recipe, for example. It's not the Hollywood part of broccoli, and that means it tends to get tossed – but it really shouldn't be. "It has a great texture," says Pickett. "We take the rough buds off the broccoli after we take the florets off, and we'll save them for a salad or whatever. And then we're just going to cut it with a knife, and you get a nice cylinder with a really firm texture that almost looks like kohlrabi, kind of like a celery root flavor and texture.
Ditto for the coffee. He uses the spent marc, which would otherwise be thrown away, in the salmon cure to impart a nutty, umami note. It boils down to a simple idea, says Pickett: "If I would normally throw something in the trash, is there something else I can actually use it in that is just as good for sticking with the product? ? "
Sustainably grown Ora King Salmon is a great choice for this recipe, and if you can get it cleaned and boned by your fishmonger, things will be just fine. It's a salted salmon dish, so getting it right ahead of time isn't just a tip, it's necessary. The remedy itself is a straightforward process, however. "You make your porridge with the coffee grounds, the espresso, the brown sugar, the sea salt, then you just rub all the fish and leave it for 24 hours," says Pickett. You can also do it in as little as 10 hours at a pinch.
The broccoli dressing is just as simple, with the dressing coming together in the bowl. "You really peel the broccoli stalk, you dice it, you blanch it, and then you make a dressing with olive oil, champagne vinegar, diced apples and herbs," says Pickett.
The herbs are yours; anything you have around can work, and Pickett recommends keeping an eye out for the savages. "There is wild garlic everywhere, there is oxalid in the garden. I walk to work a few days a week and there are nasturtiums growing everywhere. Just keep your eyes peeled for some beautiful wild herbs that might as well go in this dish. "
To serve, slice half a dozen thin portions and arrange them on a plate. Then pour the vinaigrette on top. Makes a light lunch or a starter, but Pickett likes the versatility for other meals as well. "It could also be a breakfast dish or a brunch dish," says Pickett. "You could have a toasted bagel or a nice piece of bread and just layer your salmon and this dressing and add a little crème fraîche or Persian feta." The versatility means this dish is also comfortable with a Nespresso iced coffee or a bottle of white wine.
Coffee Ora King Salmon with Broccoli Stem Dressing
Serves 4
Preparation time: 11:00
Cooking time: 5 minutes
Ingredients:
1 x 500g of Ora King salmon fillet, cleaned and boneless
50 ml of Nespresso
30g of used coffee grounds (suddenly)
15g brown sugar
5g sea salt
Picked wild herbs, such as wild garlic, wood sorrel, or bush salt for garnish
Broccoli Stem Dressing
1 large head of broccoli
1 Granny Smith apple, cored and diced
60 ml olive oil
20 ml of champagne vinegar
Small bunch of finely chopped chives
Small bunch of finely chopped parsley
Salt
Method:
For the salmon, combine the coffee, used grounds, sugar and salt in a mixing bowl. Cover the fish in the marinade and refrigerate for 10 hours to harden, turning after 5 hours. Remove the fish from the curing marinade and wash off any excess. Dry with a clean cloth. Let the cleaned fish rest in the refrigerator for 1 hour.
For the dressing, bring a pot of salted water to a boil while the fish rests. Prepare a mixing bowl filled with ice water to cool the broccoli after cooking. Wash the broccoli in cold water and cut the heads into quarters. Remove the florets from the stems and save them for another day. Peel and cut the tough skin of the broccoli stalk and cut it into small pieces. Cook for about 1 minute. Transfer to ice water. Once the broccoli pieces have cooled down, drain well.
In a small bowl, combine the diced broccoli stalk, diced apple, herbs, olive oil and vinegar. Season with a pinch of salt.
Thinly slice the salmon into clean, smooth pieces using the entire length of the knife. Arrange the fish slices on a plate, and garnish with the broccoli stalk and apple vinaigrette. Garnish with some wild herbs, such as wild garlic, nasturtium or blackberry flowers.
This article was produced by Broadsheet in partnership with Nespresso.