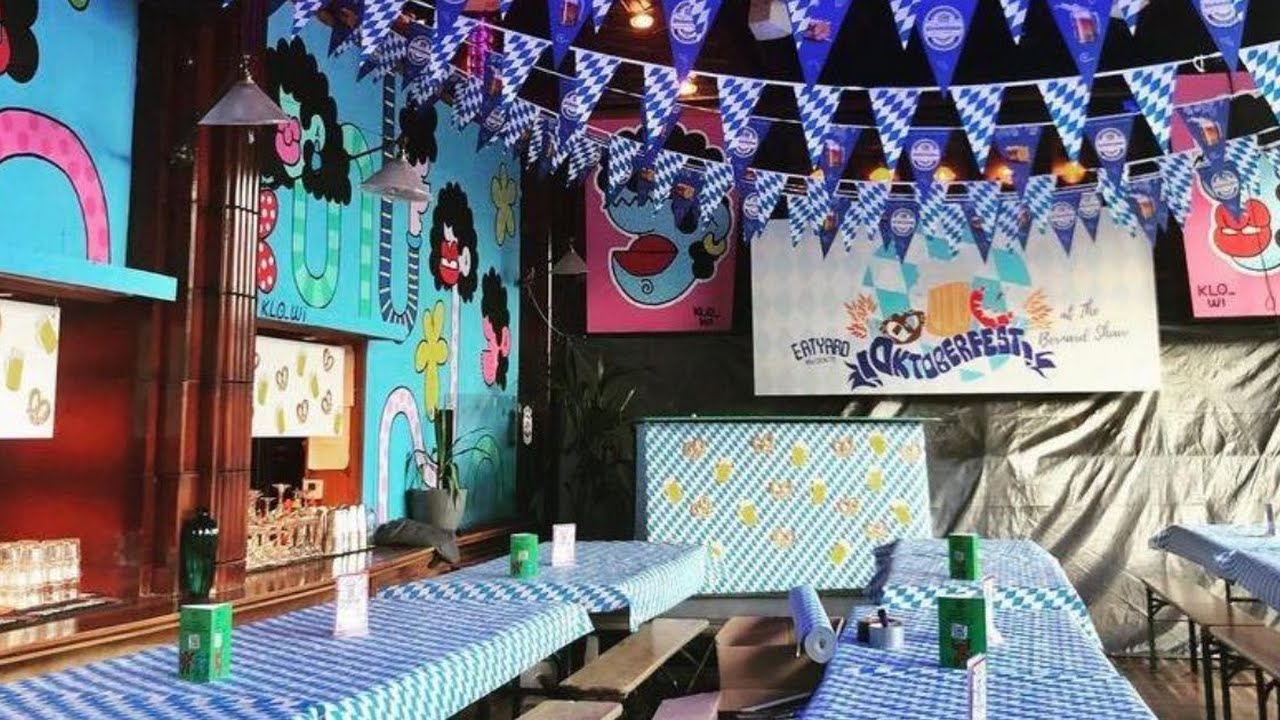 October Events Guide: Festivals of food, art, comedy, jazz and all things Halloween are on the horizon
Oktoberfest at the Bernard Shaw, Dublin
September 30 – October 29
For the month of October, Eatyard is bringing a slice of Bavarian cheer to Drumcondra for Oktoberfest at the Bernard Shaw. A celebration of all things beer, cheese, pretzels and sausages, there will also be Bodytonic Buzz with a whole host of German games to get your teeth into, including Stein-holding competitions, the Hasselhoff karaoke, Lederhösen Limbo, Blind Beer Tasting, DJs and many more.
Bualadh Bos Children's Festival, Lime Tree Theatre, Limerick
October 1-14
Lime Tree Theater Belltable's annual Bualadh Bos Children's Festival continues to inspire and engage teachers, children and their families in the performing arts. Building on the success of previous festivals, this year the program is even more ambitious than ever and emphasizes community engagement and children's participation.
Boys! Boys! Boys! Exhibition of photographs at The Library, Dublin
October 1-23
The Library Project presents the fourth issue of BOYS! BOYS! BOYS!, a project by The Little Black Gallery organized by co-founder Ghislain Pascal to promote queer and gay photography. It now represents more than 65 photographers from 30 countries, including some where gay rights are suppressed and gay lives are under constant threat.
Belfast International Arts Festival
October 5 – November 6
Established in 1962, the city's longest running international arts festival, redesigned and renamed Belfast International Arts Festival (BIAF) in 2015, celebrates 60 years with an extended new season of contemporary arts and cultural events. Aiming to create a truly civic event of arts and ideas of international appeal and scope, view the schedule of events here.
Tipperary International Dance Festival
October 7-20
A festival dedicated to empowering the voices of our communities by providing opportunities for dance artists and engaging with the community, Tipperary Dance International Festival hosts events and workshops in various locations around the county, and you won't want to not miss it.
Shine a Light Night 2022
October 14
Shine A Light Night takes place on Friday 14 October to help Focus Ireland change the lives of families, young people and children who are homeless. The event sees business leaders, businesses and individuals sleeping in their workplaces, homes or gardens for a night to shine a light on homelessness in Ireland. Register your interest today.
Baboró ​​International Festival of Children's Arts
October 14-23
With 50 live events taking place across Galway, Baboró ​​spans ten days of creative connection for children through performances, games, visual arts, workshops and storytelling. Ireland's flagship festival devoted exclusively to children and families, the 26th festival this year will welcome thousands of children aged 0-13, as well as their families and teachers.
Kinsale Food Festival 2022
October 15
The Kinsale Gourmet Festival has been attracting thousands of food lovers to Kinsale for 45 years and has continued to evolve with the tastes of the times. The annual food festival is held at restaurants in Kinsale that are members of the city's Good Food Circle, so you can expect a good foodie treat.
Diwali Festival of Lights, City Hall, Dublin
October 18
In conjunction with Dublin City Council, the Irish Council of India is celebrating the Diwali Festival of Lights at a hybrid event at Dublin City Hall 2 for a spectacular event that encompasses and invites members and peers of all communities to share the joys and wonderful celebration of Diwali with our communities and leading figures in business, academics and politics across Ireland.
The Wexford Factory Academy at the 71st Wexford Festival Opera
October 21 – November 6
As part of the Wexford Festival Opera – a festival that has historically served as a stepping stone for many young singers to an international stage – PwC is sponsoring The Wexford Factory for their 2022/23 Academy. A professional development program for young Irish or Ireland-based singers, this Academy builds on this tradition and enables young singers to learn from some of the world's most recognized artists, coaches and opera professionals.
Factory participants embark on a two-year journey with the festival, which will see them participate in a professional development academy, have the opportunity to participate in an international exchange and perform in a main production of Cinderella by all 17 years -old Alma Deutscher at the National Opera.
Galway Comedy Festival
October 25-31
Bringing together over 100 artists and over 60 shows at 17 venues across Galway City for a week of laughs, the Galway Comedy Festival specializes in carefully curated craic. This year's headliners include an array of Irish comedy royalty such as Dylan Moran, Tommy Tiernan, Deirdre O'Kane, Emma Doran and Ardal O'Hanlon.
Westival, Westport, Mayo
October 26-31
Westival is the oldest music and arts festival in the West of Ireland. It has been held for almost fifty years in Westport with the aim of showcasing the increasingly diverse Irish art scene. This multidisciplinary experience features music, theatre, film, spoken word, visual arts and more, and this year's lineup features a range of truly incredible performances. Learn more here.
Puca Festival 2022, Trim/Athboy, Meath
October 28-30
Music, fire, feasting and merriment in Ireland's Ancient East – the Púca Festival returns to celebrate the Celtic New Year with the spirits of Halloween. Saluting the spirits of the season through folklore, food, myth and music, this festival reopens avenues of reflection and celebration forged by travelers over 2,000 years ago. The incredible lineup of events includes comedy from Joanne McNally and David O'Doherty, music from Imelda May and The Academic, a live podcast from Blindboy, and much more.
Guinness Cork Jazz Festival
October 28-31
Back for its 44th year with a host of new acts, venues and experiences to surprise and delight attendees, the Guinness Cork Jazz Festival will see some of jazz's biggest names grace the stage for what should be their most magnetic to date. The New Power Generation, Denise Chaila and Hermeto Pascoal are among those appearing on the bank holiday weekend.
Bram Stoker Festival, Dublin
October 28-31
While the full program has yet to be announced, the Bram Stoker Festival brings the Northern Lights to Dublin this year with a mesmerizing and immersive light and sound experience you'll never forget. A free show that will create a spectacular vision of the Northern Lights in the upper courtyard of Dublin Castle, its lush visuals and harmonious soundscape will bring the wonder and joy of an Aurora Borealis to city dwellers who would typically never get a glimpse of this majestic sight.