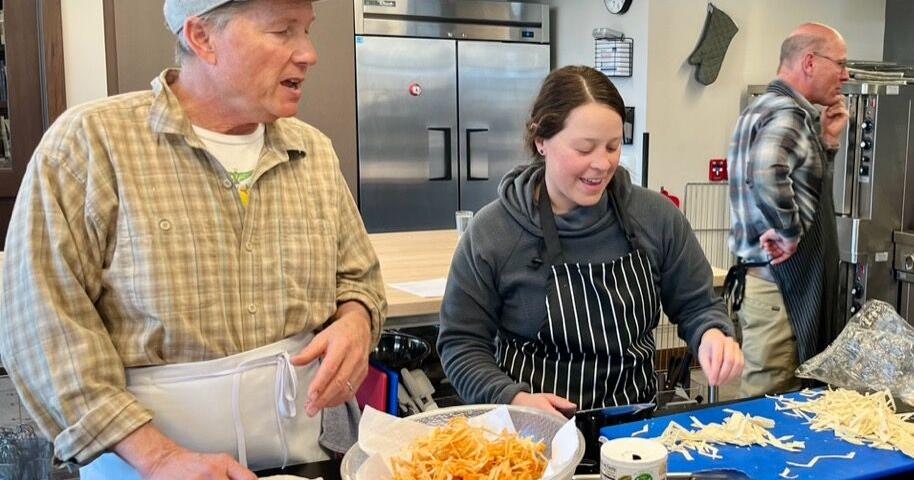 Locals' lunch a success | News
The smells of the local lunch at Ah Haa School on Monday filled the entire building, as Lucas Price of La Cocina de Luz taught the new class. Ten attendees gathered around Price in the new Ah Haa Culinary Classroom as he demonstrated how to make Sopa de Lima (Mexican Chicken Lime Soup).
The class was the first Locals Lunch at Ah Haa, but it certainly won't be the last, said Jessica Newens, director of culinary arts at the school.
"For me, it's about building a community, creating a program, and getting people here to understand how fun and accessible it is to cook," Newens said.
At $15 per person, the course offers locals an affordable opportunity to learn a new dish or skill during their lunch break. The class is from noon to 1:30 p.m., and the prepared meal is included as lunch.
Price heard about the course from a friend and jumped at the chance to teach. He chose to make Sopa de Lima because the recipe introduces basic concepts that are particularly useful for beginners.
"I think in Mexican cooking, it's good things to know about chili peppers, caramelizing onions, roasting tomatoes, and making broth. It just brought in a lot of different skills and talking points that, I think would be good in a cooking class," he said. .
The dish also has a bit of personal history sprinkled into the recipe. Price did Soupa de Lima on the first date he had with his wife when he lived at the Shandoka Apartments. Price graduated from the Western Culinary Institute in Portland, Oregon, and interned at the Coyote Café in Santa Fe, New Mexico. He launched La Cocina de Luz in 1998, and the restaurant has been a Telluride staple ever since.
Throughout the course, Price went step by step on how to prepare the ingredients. At each step he explained why he was doing this and how it would affect the soup. Price patiently answered each question and made sure his students understood the process. At the end of the lesson, participants were sent home with full bellies and the knowledge of a new recipe.
The recipe provided was enough to make two gallons of soup, which Nancy Craft says is the perfect amount to make when her family comes to visit Telluride.
"It's a fun thing to do all together; cook dinner," she added.
Craft is a "big fan" of Ah Haa School and occasionally volunteers to help teach classes. She looks forward to the locals lunch as a regular part of the Ah Haa schedule.
"I'm really thrilled that Jess (Newens) is doing this because I think it's great to be able to come in at lunchtime and cook with a group of people and come away with great cooking tips and then have a wonderful lunch." Craft said.
When Craft learned that Price was teaching first class, she quickly signed up, knowing he would be a good teacher.
Stephanie Ansin, another participant, always wanted to take a cooking class and was happy that Ah Haa School could offer one. His biggest takeaway from Locals Lunch was Price's teachings on the "power of toppings."
"He said toppings were king, and it really showed," Ansin said.
Newens explained that building a culinary classroom was easy when the Ah Haa School moved from the depot to the new building on Pacific Avenue. Newens believes that cooking crosses cultural boundaries, and because cooking doesn't necessarily require prior skills, it's less daunting and more accessible to the general public.
"Everyone cooks and everyone has to eat," she added. "It's definitely a way to bring more people into this building and understand what we're doing."
Monday's class was the first in a long series, Newens said. At the moment, she is looking for local chefs, professional or not, to help set up regular classes for locals. Over the next few months, she hopes to have enough teachers lined up to host weekly local lunch classes throughout the summer.
"Just come in and do it if you have a passion for it," Newens said.
If you are interested in teaching a Locals Lunch class, email [email protected] To keep up to date with local lunch and other programs, visit ahhaa.org.