How to make the best pies at home | Jane de Graaff, today's show
Pie lovers can be divided into two people: those who love the filling and those who love the crust. I grew up in a house where I was a crust lover, but my sister was all about what was inside. I regularly watched in horror as she ripped off the dough and tossed it in search of the hot filling. We would spend hours debating whether a pie was still a pie once she did this, never coming to a resolution.
Today, I don't mind if you're a crust or filling lover. I'm here to tell you that there's room in this world for both, and to talk about the best ways to do it right.
I joined Today this morning to share my ultimate pie secrets. Watch the clip above to find out the one trick that made hosts Karl Stefanovic and Allison Langdon laugh and read on for recipes and tips.
Here are my top tips for getting a great pie at home. But honestly, get the right pastry and most people are pretty happy.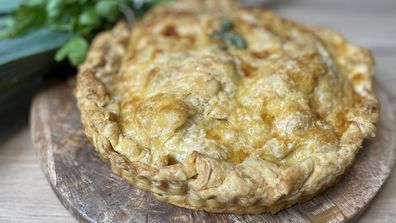 Jane's Pie Tips:
Choose the right pastry
Don't just opt ​​for the same puff pastry over and over again. That's a good thing, but there are other options and changing it will take pies to the next level.
There are savory and sweet pastries available. Then you can choose between shortcrust pastry, filo puff pastry for different textures. So do you think, would your vegetable pie be better with a flaky filo top? Does your meat pie need a crispy, structurally sound short crust base? Is it better to top an apple pie with a golden, flaky puff pastry?
Blind-bake the lower crust
A pie only needs a top layer of dough to be called a pie (with the exception of pies filled with potatoes). But if you're making a fully enclosed pie, don't skip this step of "blind baking" your pie crust. It just means that you have to heat up your oven, line your pie dish with dough, and then bake it so it can hold wet ingredients without getting soggy.
Once the dough is in the pan, it is best to line it with parchment paper and fill it with baking beads or dried beans while baking. This will prevent it from puffing up when there is nothing in it and will help with even cooking. Blind baking seals the dough so it won't leak or stay soft once you've put in your filling. And nobody likes a soggy bottom.
Don't over-wet your filling
Even if you blind bake your pie base, it will still fall apart if the filling is too moist. So be sure to cook your filling and let it simmer to reduce if it's heavy on the moisture, or thicken it with a little cornmeal or flour. This will keep the filling in and prevent it from soaking into the base.
Be brave and try different toppings
Pies aren't just full of meat to eat at the foot. They can be savory or sweet, the choice is yours.
If you're a fan of fillings, this is where you have free rein to try new things. At Christmas, I love making leftover turkey pies. In the summer, stone fruit season has me obsessed with peach pies. Just about anything makes a good pie filling, if you're brave enough to make it.
Here are some of the pies we're talking about today.
For a daily dose of 9Honey, Subscribe to our newsletter here.