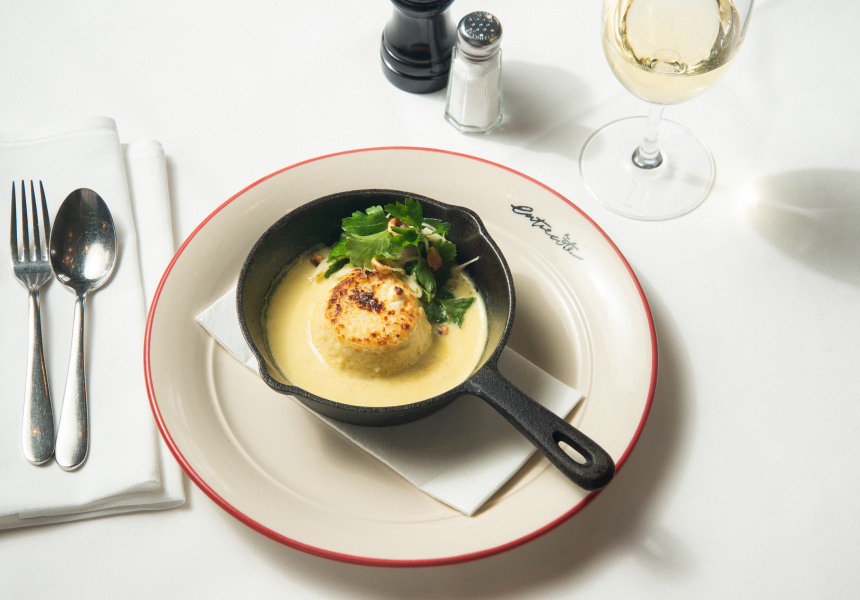 How to make goat soufflé for July 14 (and what to drink with it)
July 14 is Bastille Day. Holidays in France are a time to get together with friends and family, but for Australians, it's a chance to gently pull a hat to another nation's past while enjoying classic Gallic cuisine and accompanying wine. And there is arguably no French dish as iconic as soufflé.
Timothy Menger, chef at Entrecote restaurant in Melbourne, says that while it may be summer in France right now, there are few things as appealing in an Australian winter as a French cheese soufflé and cream.
"We use goat cheese with a little Gruyere," Menger explains. "But one of the great joys of this recipe is that you can turn it into blue cheese, or focus on heavier dark cheese like Gruyere, Emmental or those kinds of cheeses."
Menger says the secret to soufflé is to make it the night before.
"This way the soufflé hardens a bit better," he says. "If you are having a dinner party with friends, you want to talk to [them] not standing in the kitchen.
The dish is surprisingly simple – just don't rush it to the table. "Basically you just make a roux, adding the milk, then passing the yolks to give it richness," he says. "Let this mixture cool a bit, then you can add the whipped egg whites. Pour it into your molds, put it in the oven in a double boiler, making sure it is covered, and bake for about 15 to 20 minutes until ready.
Cooling the dish overnight and then reheating it will save you time and avoid disappointing deflations.
Of course, you have to pair a good French dish with French wine. A simple method of choosing a bottle off the shelf is one marked "Vin De France", a [category] designed to encompass wines produced within the borders of France, rather than those belonging to a specific region or appellation.
When pairing, Menger tries to "seek out yin and yang" – something to balance the innate flavorful creaminess of the soufflé. He says a French chardonnay like Tussock Jumper would work well, as its tangy acidity and stone fruit flavors would help reduce the richness, while emphasizing the indulgent flavors of the cheese. If you're using a milder-flavored cheese, you might lean towards the sweet fruit and soft tannins of a Rosé Grenache, while more robust cheeses and other additions might require a Pinot Noir to balance.
Menger also likes to combine it with a crunchy salad for an ideal counterpoint to the silky richness of the soufflé.
"We serve it with parsley, pickled shallots and hazelnuts," Menger explains. "If you wanted to make it a main course, you would serve it with something a little more robust, like a witlof salad or a radicchio, and put a little pear in that dish as well."
Here's how to make Timothy Menger's twice-baked goat soufflé with an apple and hazelnut salad and caramelized honey vinaigrette.
Twice-cooked goat cheese soufflé, apple and hazelnut salad, caramelized honey vinaigrette
Preparation time: 20 minutes
Cooking time: 30-40 minutes (30 minutes cooking, 10 minutes reheating if prepared in advance)
For 6 persons
Ingredients:
For the soufflé:
100g unsalted butter
100g plain flour
600 ml milk
100g grated Gruyère
1 sprig of thyme, chopped
1 tablespoon of Dijon mustard
4 whole eggs, separated
2 additional egg whites
175 g crumbled goat's cheese
For the Gruyère cream:
100 ml thickened cream
50g Gruyere
Black pepper for seasoning
For the apple and hazelnut salad:
50 g roasted and shelled hazelnuts
1 Granny Smith apple, cut into julienne
3 sprigs of flat-leaf parsley, picked and washed
For the dressing:
100g of honey
30 ml of white wine vinegar
50 ml of hazelnut oil
Black pepper and salt to season
Method:
To cook the soufflé, preheat the oven to 175 ° C. Gently melt the butter in a saucepan, then add the flour and cook for 5 minutes. In another saucepan, add the thyme to the milk and heat gently on the stove. Slowly add the hot milk to the flour and butter, stirring constantly with a whisk until thickened. Remove from the heat and let cool for 5 minutes. Take a little more butter and generously grease 6 soufflé ramekins.
Add the Gruyère, goat cheese and 4 egg yolks to the pan and mix until smooth. In a separate dry bowl, whisk all the egg whites to medium peaks. Stir the beaten egg whites into the cheese mixture, one third at a time, being very soft with the last third of the egg whites. Pour the mixture into ramekins until they are almost full. Place the ramekins in a deep baking sheet (double boiler) and pour boiling water into the baking sheet until the mussels are submerged. Bake, uncovered, for 25 to 30 minutes until the soufflés rise and are golden on top and a skewer comes out clean. Cool in ramekins.
To make the Gruyère cream, boil the cream and add the Gruyère. Season with fresh black pepper.
To make the vinaigrette, put the honey in a small saucepan and cook until you get a dark caramel. Add vinegar to stop coking and whisk. Add the oil and season with black pepper and salt.
To serve, preheat the oven to 200 ° C. Turn the soufflés into 6 ovenproof dishes. Pour the Gruyère cream evenly between the 6 soufflés. Bake for 10 minutes and finish under the grill for more color. Season the salad with the honey vinaigrette and place the salad with the soufflé. Pour in the remaining honey vinaigrette and serve.
This article is produced by Broadsheet * in partnership with Vin De France the national classification of French grape varieties celebrating 'Freedom, Quality, Creativity'. *