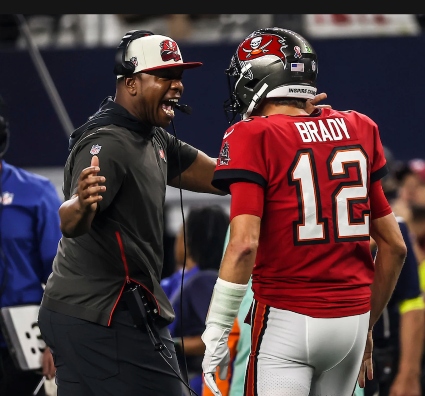 Five Things – JoeBucsFan.com – Tampa Bay Bucs Blog, Buccaneers News
Joe has just returned to his hotel in Dallas after telling story after story at Jerry's World. It's 2:00 a.m. from the center, 3:00 a.m. from the east. Let's get out there to celebrate the start of what we all hope will be a memorable season, and let's get it rolling fast. Joe hopes to sleep four hours.
But hi. it's "Victory Monday!"
Defense wins championships
The old football saying defense wins championships is outdated. We know that in the third decade of the 21st century, if you haven't committed a dangerous offense, you are erased. Even a solid defense cannot help you.
Joe suspected the Bucs would have one hell of a defense this year. If yesterday was a tip, the Bucs definitely will.
The Bucs defense yesterday made Dak Prescott look like Stewart McClown. Prescott was not very good. That's because the Bucs' pass defense, aside from the first practice, was pretty solid.
You combine that with an already vicious run defense, and now you're cooking with fire.
Yes, Joe thought the Bucs would have a dominating defense this year. Yesterday did nothing to change Joe's mind. And that defense will carry the Bucs until the offense can smooth things over with all the injuries and get on the right track.
Playoff Lenny is ready to roll
Remember this summer when we heard reports that Playoff Lenny was a Blizzard DQ away from 260? That he was about to eat away at the league? That the Bucs guys were irritated by his weight and supposedly deformed daddy body?
We should all be so out of shape.
Playoff Lenny looked really sharp in training camp and in preseason games and he had his best regular season game in a Bucs uniform yesterday. Oh yes, Playoff Lenny also lit up Dallas pass thrower Micah Parsons on a long pass to Julio Jones.
Playoff Lenny's Crushing Block – Does Parsons have to go to the dentist today to get some fillings replaced? – showed people he wasn't hanging around this year.
ESPN's Jenna Laine had a cool stat on Playoff Lenny from Sunday. Per Laine, 93 of Playoff Lenny's 127 yards came before Contact. That tells Joe that run blocking for the Bucs was pretty darn good, especially on a line that had three guys there that no one expected to play meaningful snaps in July. That would be left guard Luke Goedeke, center Robert Hainsey and left tackle Josh Wells. Depending on how long Donovan Smith is out, we should expect to see Wells.

Chris Godwin's injury
We should know more later this morning when Bucs coach Todd Bowles speaks in his statement the next day about Chris Godwin's status. What would have been a shock in its own right a month ago, saying Godwin would play and perform well in the season opener after recovering from knee surgery, Godwin blew his hamstring -leg.
Godwin looked like his old self. Maybe there was something about the muscle memory he was playing live football for the first time since blowing out his knee last fall and maybe his body was not ready. Who knows?
Seeing Godwin limp heavily on the Bucs sideline yesterday made Joe sick thinking the worst. Joe guesses, just a total guess, Godwin will be ready to rock and roll in October.
How about Shaq Barrett?
The Bucs' sack king had a nice impact on Sunday. Perhaps a huge impact. The official playbook has Shaq without bags. Yeah, it stinks. However, Shaq had seven quarterback pressures, by Wool. It's a whole bunch.
If Shaq keeps up that kind of pressure, he's going to be a monster, that's for sure. And let's think about it, the next quarterback that Shaq will face is the American quarterback. Professional bowler Jameis Winston. He's not exactly mobile. Prescott is.
Joe wouldn't be shocked that, given the Saints' viscous issues with their offensive line, Jameis could hit the turf once or twice from Shaq.
The revival of Lavonte David
Has anyone noticed if Bucs star linebacker Lavonte David looks five years younger? He is faster and also seems stronger.
David was all over the field yesterday making plays. This is what David has been doing for years. Last year plagued by injuries, Joe thought we may have seen the best of David's playing days and he was slowly starting to fade as he hit 31.
David played yesterday like he was at his peak. And what the hell, Mike McCarthy? Did you really think you could sneak past David? Man, David felt it coming right away and blew up the Cowboys receiver.
Joe couldn't believe that McCarthy was mad enough after David's game, that he would try to sneak past David. Dummy.
It reminded Joe of what he heard from "The Pope" Mike Francesa about McCarthy when Francesa noted last week on SiriusXM, "I watch his games and I see things that I just don't understand. "
Targeting David with a screen pass matches that statement.