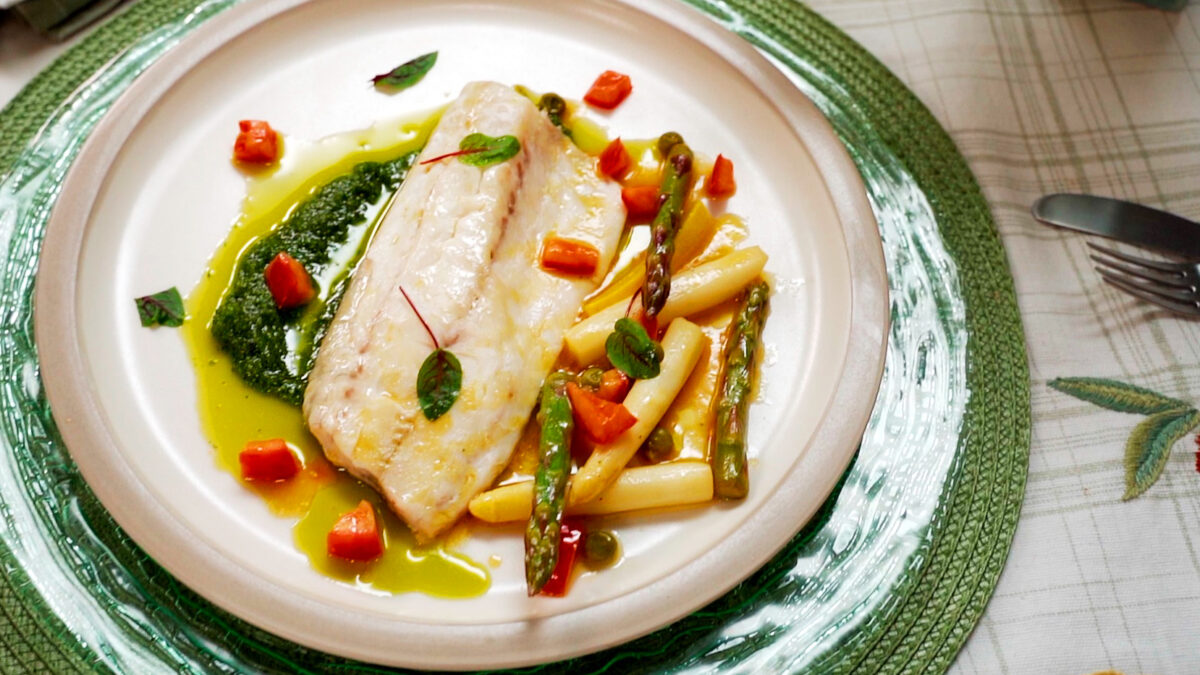 Fish and Asparagus en Papillote (Recipe + Video)
By Chief Bao
This fish and asparagus en papillote (or fish in parchment) served with a bright green sauce is a fresh and healthy dinner that is both easy and delicious! Striped bass is a low-fat source of selenium and omega-3 fatty acids. A study found that eating baked or grilled fish once a week may boost your brain power and reduce your risk of Alzheimer's disease and memory loss.
Recipe
Preparation time: 15 minutes
Cooking time: 15 minutes
Total duration: 30 minutes
Makes 2 servings
Ingredients
For the vinaigrette
2 tablespoons of yellow mustard
1 tablespoon of honey
1 tablespoon of red wine vinegar
1 tablespoon lemon juice
1/2 teaspoon of salt
1/2 teaspoon black pepper
2 tablespoons olive oil
For the vegetable salad
5 stalks of asparagus
3 stalks of white asparagus
1/2 medium zucchini
1 tablespoon olive oil
1 teaspoon of salt
1 tablespoon peas
1 medium tomato
For the fish
2 tablespoons of butter
5 slices of ginger, sliced
3 stalks of green onions
6 ounces striped bass
1 tablespoon of white wine
1/4 tsp salt
For the green sauce
1/4 cup curly parsley
1/3 cup cilantro
2 Jalapeño stalks
1 teaspoon lemon zest
2 tablespoons of parmesan
1 tbsp mint
1/2 teaspoon black pepper
1/4 tsp salt
1/4 cup olive oil
directions
To make the dressing: In a large bowl, combine the yellow mustard, honey, red wine vinegar, lemon juice, salt, black pepper and olive oil.
To make asparagus salad: Peel the asparagus roots and cut them in half lengthwise. Cut a zucchini in half, remove most of the inside, then cut into long strips. Place the asparagus and zucchini in boiling water, add the olive oil and salt, then add the peas. Blanch the vegetables for 2 minutes, remove with a colander and transfer to a bowl of cold water to cool. Slice the tomato and remove the inside, then cut it into cubes. Drain the blanched vegetables and toss the vegetables and diced tomatoes in the dressing. Put aside.
To make fish en papillote: Spread butter on parchment paper and garnish with ginger slices, green onion and fish fillet. Season the fish with white wine and salt. Fold the sides of the parchment paper over the fish and staple each side to close. Place the package of fish in a saucepan and cover it with a lid, steam the fish for 5 minutes over medium-low heat.
To make the green sauce: Chop the parsley, cilantro, and jalapeno and place them in a blender. Add the lemon zest, parmesan, mint, black pepper, salt and olive oil, and mix all the ingredients into a creamy sauce.
To serve: Place a spoonful of green sauce in the middle of the plate. Place the steamed fish fillet on top. Arrange the asparagus salad on the side, drizzle some vinaigrette over the fish and serve immediately.