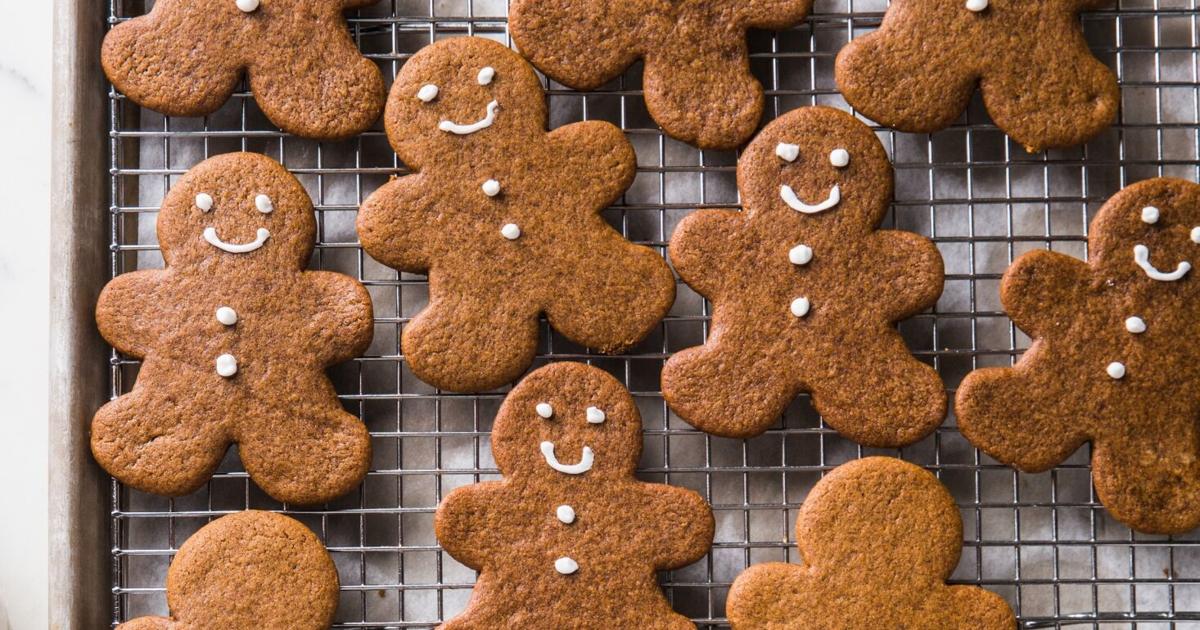 Cook This: Fashion Cookie: Gingerbread People are a must have for the holidays | Food / Recipes
December is cookie season, and for us it just wouldn't be the holidays without the gingerbread guys, uh, these people do.
Digging through our archives, we found this recipe for tender and chewy gingerbread people from "The Perfect Cookie: Your Ultimate Guide to Foolproof Cookies, Brownies & Bars" by America's Test Kitchen.
"These gingerbread cookies are nothing like the stale versions you poke a hole in and cut the Christmas tree into," the editors write. not overwhelmed by the dusty spices. "
For convenience, use a food processor to make the dough, mixing the dry ingredients first before adding the butter, molasses and a bit of milk, the editors advised.
Rolling the dough to a ¼ inch thickness was ideal for getting the soft, chewy texture.
Sweet and chewy gingerbread people
Makes about 20 cookies. Recipe from America's Test Kitchen "The Perfect Cookie: Your Ultimate Guide to Foolproof Cookies, Brownies & Bars" cookbook.
3 cups (15 ounces) all-purpose flour
¾ packed cup (5¼ ounces) dark brown sugar
1 tablespoon of ground cinnamon
1 tablespoon of ground ginger
¾ teaspoon of baking soda
½ teaspoon ground cloves
½ teaspoon of salt
1½ sticks unsalted butter, melted
¾ cup of light molasses
2 tablespoons of milk
1. Combine flour, sugar, cinnamon, ginger, baking soda, cloves and salt in food processor until combined, about 10 seconds.
2. Add the melted butter, molasses and milk and mix until a soft dough forms and no traces of flour remain, about 20 seconds, scraping the sides of the bowl as needed.
3. Lightly spray countertop with cooking spray and sprinkle with flour, transfer dough to counter and knead until dough forms a cohesive ball, about 20 seconds. Divide the dough in half. Shape each half into a 5-inch disc, wrap the discs tightly in plastic wrap and refrigerate for at least 1 hour or up to 24 hours.
4. Set the oven racks to the upper middle and lower middle positions and heat the oven to 350 F. Line 2 rimmed baking sheets with parchment paper.
5. Working with one disc of dough at a time, roll ¼ inch thick between 2 large sheets of parchment. (Store second dough disc in refrigerator while rolling out first.) Remove top piece of parchment paper. Using a 3½-inch cookie cutter, cut the dough into shapes. Scrape leftovers around cookies and space ¾ inch shapes on prepared sheets.
6. Repeat the rolling and cutting steps with the leftover dough.
7. Bake cookies until puffed and just set on edges, 9 to 11 minutes, changing and turning sheets halfway through cooking.
8. Let the cookies cool on baking sheets for 10 minutes, then transfer them to a wire rack. Let cookies cool completely before serving. Cookies can be stored in a large, shallow, airtight container, with a sheet of parchment or waxed paper between each layer, at room temperature for up to three days.
Decorating icing
Makes 1⅓ cup of frosting.
2 large egg whites
2⅔ cups (10⅔ ounces) powdered sugar
1. Using a stand mixer fitted with a whisk, beat the egg whites and sugar on medium-low speed until combined, about 1 minute. Increase speed to medium-high and whisk until soft, shiny peaks form, 2 to 3 minutes, scraping bowl as needed.
2. Transfer the icing into a piping bag fitted with a small round nozzle. Decorate the cookies. Allow the icing to harden before serving.
Note: For a colored frosting, mix 1 to 2 drops of food coloring to obtain the desired color before transferring it to a piping bag.