15 things to eat that best represent the capital
Which dish best embodies the city of Victoria?
On a recent episode of MicCHEK, the podcast asked local food guide Bonnie Todd of Off the Eaten Track to come up with a list of Victoria's 15 most iconic dishes.
"Some of the choices were dishes that I already knew from working in the food industry, but there are certain dishes that people know and come to try at my company," Todd told MicCHEK. "I'm also part of a hospitality Facebook group and have been circulating it to members and got great recommendations."
Here's Todd's full list of his 15 most iconic Victoria dishes:
Focaccia bread from Pagliacci – 1011 Broad Street
"Their focaccia bread is universally adored. I checked Reddit and some comment groups on this and most people think it's because of the amount of olive oil they use. I had a comment that the pans they bake the bread in are as old as the restaurant itself. So maybe they're seasoned so well at this point that it makes the bread amazing.
Beacon Drive-In Soft Serve Ice Cream – 126 Douglas Street
"They've been consistently voted the best ice cream in town for 28 years and running. Their soft-serve is really something special and it has a very unique flavor and texture. You also don't see much soft-serve, so there's something nostalgic and fun about a place that still does old-school soft-serve.
Tapa Bar Cha Cha Cha Mussels – 620 Trounce Alley
"It's white wine, garlic and sambal, a kind of red chili and tomato sauce. This is a dish that has been around for a while. When I was living in Vancouver I was coming and a friend told me we had to go to the Tapa bar and try this dish. It's also one of the dishes that came up often when I asked industry insiders online.
Barb's Fish and Chips Seafood Chowder – 1 Dallas Road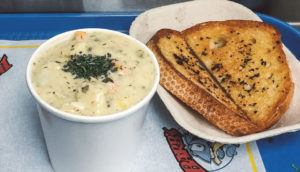 "Everyone always has the fish and chips which is legit, but honestly their chowder is amazing. They've been doing it for a long time and they claim it's the highest rated chowder. They serve it with a garlic bread which I really like, it's almost too greasy but in the best possible way.
Loy Sing Meat Market Roast Pork – 554 Fisgard Street
"It's a family institution and their roast pork is very famous. They roast a whole pig and they've been doing it for years and it's delicious. Personally, I prefer the roast duck, but I think their roast pork is a bit more of an iconic dish.
Blue Fox Moroccan Benny Eggs – 919 Fort Street
"Do you know how hard it is to get consensus on the most iconic brunch in town? It was hard. I contacted Blue Fox and according to them their best seller is their Moroccan Eggs Benny They've been serving it for 15 years and they say it's by far their most popular item.It's Moroccan spiced chicken with homemade date chutney.
A Sticky Wicket Tree – 919 Douglas Street
"You knew this was coming. I know there are cocktail bars and super fancy things with the Shaft, but if you want a truly iconic Victoria experience, I think it's a Shaft at the Sticky Wicket. I spoke to one of their bartenders and they say they easily make at least 200 Shafts a night.
Jones Bar-B-Que Brisket Sandwich – 1725 Cook St.
"Something a bit more modern and that's a personal preference. I think it's one of the best BBQ's I've ever had. What's also exciting is that they are currently working on opening a store in Langford.
Octopus Tacos from Finest at Sea – 27 Erie St.
"They created this taco that's on a flour tortilla and they put grilled octopus in it. It's really tender and not soft at all. They put cabbage on it and spicy chipotle. Honestly, this is a perfectly done octopus. It's pretty well chopped, but it's a beast and it's only about eight bucks.
Sirene Chocolates Coastal Rainforest Chocolate Bar – Various Locations
"He has a facility in Cook Street Village and sells the chocolate in many different places around town. It's in a yellow packet. Having a bean-to-bar chocolatier in Victoria is phenomenal. I would suggest going to Chocolate and Co. on Fort Street to get it. I specifically recommend this chocolate bar with locally picked mushrooms, kelp and streams."
Wor Wonton Soup from J&J Wonton Noodle House – 1012 Fort Street
"It's almost like an all-purpose bagel, but in wonton form. I know a lot of people swear by JJ's. I think it's an iconic restaurant and it's definitely an iconic dish."
Driftwood Brewery's Fat Tug – Various Locations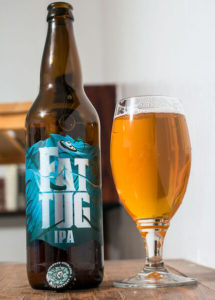 "What an iconic beer for Victoria. I think if you come to Victoria you must have at least one Fat Tug. Each menu contains Fat Tug and Blue Buck. Both are iconic, but I gave Fat Tug the edge.
Black Forest Cake from The Dutch Bakery – 718 Fort Street
"I think it's true to their Germanic European cooking style. I wanted to make sure Dutch Bakery was on this list and I could have put a few different items on the list, but that's my personal preference. It's a chocolate sponge with whipped cream and cherries and it's traditional old fashioned plus with the price it's phenomenal.
Root Cellar Green Sauce – Available at both Root Cellar locations
"Apparently they sold 25,000 jars of this sauce in 2020. A few people told me it had to be on the list. I think for locals, green sauce is on everyone's freak list. It's also a secret because they don't put the ingredients on the label.Many people have tried to figure out how to do this.
Raspberry Lychee Danish Pistachio Rose Water from Crust Bakery – 730 Fort Street
"I love this place and they are great people. All of these flavors combined on a Danish, it's a bit of a Middle Eastern flavor profile. Usually everything at Crust sells out at noon, which tells you how good it is. I send a lot of tourists here when they are looking for something to try.
Listen to this episode of MicCHEK here.
MicCHEK Roundtables are posted every Friday and are available wherever you listen to podcasts.