10 Best Places For Authentic Peranakan Food In Singapore
On a list of what Singaporeans consider 'comfort food', you'll more than likely find Peranakan cuisine among the few contenders. Peranakan food was invented from the subculture born from intermarriage between Straits Chinese and Malays who fused Malay and Chinese cuisine into one. Peranakan cuisine is notable for its rich textures and complex flavors, while remaining an affordable and rustic form of subsistence in many traditional Peranakan homes. The truth is that it's a dying craft and the reason is that making these age-old heritage dishes as authentic as possible takes a long time to master.
Luckily for us, there are still more than a handful of dedicated restaurants in Singapore that still do it – and do it well. Here's a roundup of our 10 favorite Peranakan restaurants in Singapore.
Traditional Peranakan cuisine meets the finesse of fine dining at Candlenut. A Dempsey mainstay that needs no introduction, many will recognize Candlenut as the first and only Michelin-starred Peranakan restaurant. Perched on Dempsey Hill, Candlenut takes a contemporary approach to traditional Straits Chinese cuisine without compromising on authenticity. Led by Singaporean chef Malcolm Lee, Candlenut offers a mix of traditional and modern Peranakan plates enhanced with premium ingredients. Among his repertoire of stellar crowd favorites, we're absolutely going crazy for his Blue Swimmer Crab Curry. It's a hearty amalgamation of rich flavors, pungent spices and unparalleled flavor that is ladled over rice.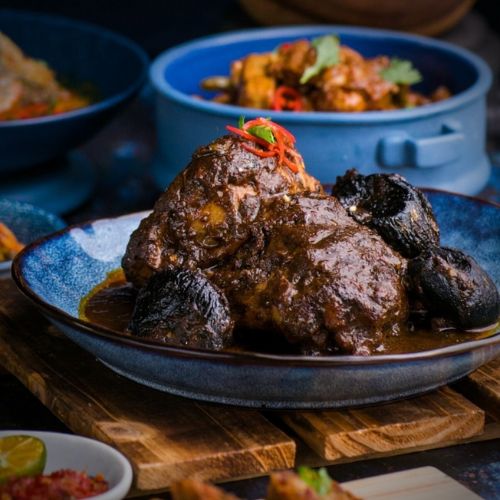 A restaurant that blends both traditional Peranakan cuisine and modern techniques, Godmama is a restaurant well worth a visit. Perched on the fourth floor of Funan, the newest lifestyle destination located in the heart of the civic district, Godmama boasts a stylish indoor setting, as well as a beautiful outdoor space for lounging over light snacks and Nonya-inspired cocktails. – their Peranakan Blue (butterfly pea gin & tonic), is a big favourite. Dishes you should definitely try if it's your first time include their Lamb Shank Rendang, Ayam Buah Keluak as well as their All-Star Egg Skin Popiah.
3. Charlie's Peranakan food
Operating from a modest shop space in the basement of the Golden Mile Food Centre, Charlie's Peranakan Food is where you go to sample great home-style Peranakan food that's impressive yet affordable. Their food selection isn't huge, but among the modest selection you'll find familiar dishes as well as more "exotic" ones. Their Ayam Buah Keluak is a heavy hitter that bursts with complexity, delivering a blend of savory sweetness and subtle bitterness. Other crowd favorites include their Gulai Tumis (tamarind fish curry) and Nangka Lemak (jackfruit curry).
4. Guan Hoe Soon Restaurant
A mainstay of Peranakan cuisine here in Singapore, Guan Hoe Soon Restaurant is one of the few remaining bastions of authentic Peranakan cuisine, and we don't just say that because they come from a line of Peranakan ancestors, but because this is where you can find real Nyonya food encompassing some dishes that have been lost over time – Sambal Timun (spicy chicken gizzard and cucumber salad) being one of them. Serving delicious food since 1953, take a stroll down memory lane and delight your senses with their tangy assam pedas pomfret, chap chyes and beef rendang.


Founded by fourth-generation Nyonya Kathryn Ho, Tingkat PeraMakan is a fast-casual Peranakan restaurant concept that has been around for over a decade now. Ordering is simplified here as you can choose from set menus that include all the favorites on one platter: main course, two sides, rice, dessert and a drink. Do not miss their beef rendang, their babi pong teh (braised pork with fermented soy sauce) and especially not their sweet and tangy Udang Masak Kuah Nanas!
Opening hours: 11:30 a.m. – 9 p.m. (every day)
Conveniently located right in the heart of bustling Tanjong Pagar, just a bit away from Singapore's central business district, The Blue Ginger is a great place for anyone looking to get their hands on some authentic Peranakan cuisine. Their selection of dishes is wide and varied for spice lovers as well as those who prefer their food a little more tame without compromising comfort and flavor. You never leave without ordering their crispy Ngoh Hiang and Babi Pongtay but their savory and tangy Ikan Masak Assam Gulai is a one-way ticket to foodie heaven. Still have room for dessert? End your meal on an indulgent note with their Durian Chendol.
Opening hours: 12 p.m. – 3 p.m., 6:30 p.m. – 10:30 p.m. (every day)
A place where lasting friendships are forged over delicious Nonya-inspired delicacies and craft beers, Orh Gao Taproom is a place where you just know your crew and you'll be well taken care of. This bustling spot is popular for its ever-changing craft beers and huge selection of natural wines, of course. But it's the food that really amazes me. Food-wise, you can't go wrong with their newly introduced Sotong Bakar, Beef Rendang and Sambal Curry Mussels. Oh, and if you like fried chicken, their Har Cheong Gai is phenomenal.
8. National Cuisine by Violet Oon
Opened by Singaporean celebrity chef, restaurateur and food writer Violet Oon known for her food columns, cookbooks and various Peranakan restaurant concepts, National Kitchen by Violet Oon bills itself as a Peranakan restaurant that prides itself on authenticity with a twist. contemporary style. . It's almost an unspoken rule that no one starts their meal with anything but their crispy, fresh and ultra-gratifying Keuh Pie Tee and Ngoh Hiang, before going into beast mode on heartier dishes such as their indulgent Daging Chabeck Beef. Cheek.
Opening hours: 12 p.m. – 3 p.m., 6 p.m. – 10:30 p.m. (every day)
A restaurant that has stood the test of time, Chili Padi remains one of the few permanent mainstays of Peranakan cuisine and has been a major factor in Singapore's Nonya food scene for decades. This quaint restaurant is tucked away in Joo Chiat and is also renowned for offering catering services that serve authentic Peranakan dishes that are simply sublime. Specialties to try include the light but tasty and so comforting bakwan kepiting (crab ball soup), sweet and tangy assam gula melaka prawns and fried Nyonya chicken wings.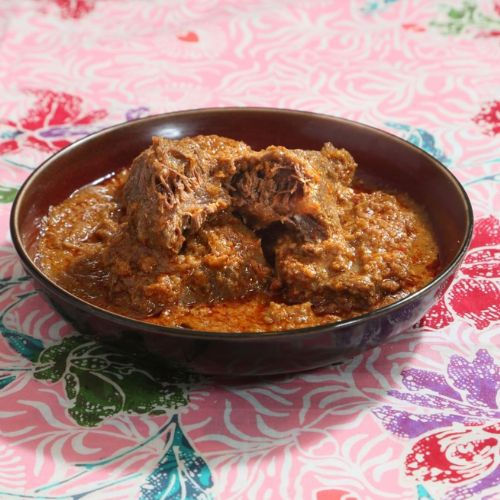 10. Ivin's Peranakan Restaurant
Perhaps one of the most popular places for Peranakan food, IVIN's is where you come for hearty food that's both affordable and good enough to inspire fond memories of grandma's cooking. Their more sausage dishes are cooked mostly in clay pots and come with copious amounts of savory sauce to pour over your rice. Among the many signatures of the restaurant, we cannot do without sour-salty dishes such as Itek Sio, Udang Nanas and Beef Rendang.
(Photos by: Alvin Tan and @sgfoodonfoot)
Next, 10 Dempsey Hill restaurants that deserve a spot on your foodie bucket list.